My friend Scott Moore with the Intense Radio site sent me this tape with his own band. And I have to say that he's got a really good Metal voice. First track is heavy a la Deliverance/Metallica. Has beefy crunchy guitars. Really good tune! 2nd track is slower and isn't as heavy nor good as their first. 3rd tune is a ballad and way too slow. First track on B-side is a nice groovy Metal tune. Reminds me of Krush. Last two tunes has some really tasty riffs and a nice rhythm. I just wished they had continued with more tunes like their first, then this tape would have rule. Production is excellent and lyrics are biblical. Overall a nice tape. Check it out.
The first thing that hit me when I got this tape was the cool artwork and logo. The logo and cover fits perfect in this genre! The music sounds like a melodic form of Horde but has a lot more atmospheric feel in it. They combine beautiful harmonies with brutality in a nice way.
The negative thing with this demo is the production. It's AWFUL!!! The worst I have ever heard! Anyway this demo shows that the band have the talent to be really good but the production have to be better in future recordings if they want people to take them serious.


References: Real Blackmetal in the veins of Emperor and Horde.
Custom Cassette

*&nbsp *&nbsp
As the title saids, this is loud'n'clear. The band doesn't hide around the bush but tells the truth crystalclear that this world is on a highway to Hell and the only way to escape the final destruction is to turn to God and ask for His forgiveness for all your wrongdoings. The music is like 50% thrash and 50% heavy metal. They even have included some ballads, so this tape is pretty diverse. The singer hasn't the best voice I have heard but he sings with compassion. Some tunes are very good and memorable and others doesn't make it at all so it's up'n'down musically. At times, the music is really unstructured and chaotic. More harmonies wouldn't hurt. Lyrically though this is great stuff, they got very scriptural lyrics that are both straight to the point and thinkable. So all in all, what do I think of this tape, then? Well, I love the lyrics and some of the tunes so I give it a 2+. Nothing that will blow you away but still pretty solid heavy metal/thrash.
References:
Can't compare them to anybody but fans of thrash and heavy metal can give this a try.

Orderinfo: Available from Ultimatum Metal Distribution
---
HEARKEN
&nbsp "Arise"
The first thing that stroke me when I received this demo was the very cool artwork on the cover. Hearken's cover shows that it's possible to combine brutal deathmetal with biblical truths! And real Death Metal this is. I like death metal when it also have influences from other metalgenres aka Vital Decision, but here we got 100% pure death metal. So it's not really my thing. The music have lots of timechanges and the singer has a nice growling voice. It's just that it's too gloomy and monotonous for my taste. There are only two tunes on the demo and to my ears there are nothing extraordinary, but straight ahead death metal. One thing you can see clearly is that this band is very serious in what they are doing. The lyrics are really good and educating and shows that they have their priorities right.
References:
Fans of 100% death metal in the veins of Disencumbrance and Oblation should give this a try.

Order info: Mail&nbsp bjs.hrkn@worldnet.att.net
---
JIMMY EARLS
&nbsp "Industry Demo"
Custom Cassette

*&nbsp *&nbsp *
Jimmy Earls, the singer/guitarist from Akeldama has now gone solo since the band split up. First release is this 8 tune demo. Musically it reminds a lot of the Akeldama sound. Real classic melodic metal with crunchy guitars is what we got here. Lyrically it's full on for Jesus. Production is the weak point on this demo. But as Jimmy told me this is just a promorelease of the tunes that will be on a fulllength cd this Summer. Then the production will be much better. Besides the production I find most of the tunes really enjoyable. Favourite tracks are It's Time with it's crunchy riffs and the moving ballad Regardless. Jimmy has also done a cool Metal version of the classic song Jesus Loves Me. If you are into catchy and cruncy melodic metal and want to hear something new and fresh this could definately be something to add to your collection. With better production I would have given this tape a 4.
References:
Bloodgood, Akeldama, Whitecross (Rex Carrol-era), old Holy Soldier etc.

Order info: Check out Jimmy's website
---
KRUSH
&nbsp "Lost"
Custom Cassette
*&nbsp *&nbsp *
Metal strikes back! A good example is this custom cassette with Krush.
The music is bluesinfluenced hardrock/metal. They sounds like a lowtuned Whitecross in their Rex Carrol days. The lead guitarist really shreds, especially on the tune "beside me". Wow, what a rocker that tune is! This cassette is worth having for that tune alone! Speaking of guitarists, they have two guitarists which make the sound really heavy.
The singer has a raspy voice (in the veins of the Jamie Rowe) which fits perfect with the music. The lyrics are Christcentered and these guys really believe in what they sing. You can actually feel the presence of God when you listen to this cassette. (Reminds me of the good old days when Stryper was still around.)
The demo contains of four tunes and the production is very good (albumquality). I just can't really get into the first two tunes but other two is really outstanding with great guitarwork, so all in all I'll give this cassette the rating 3+. Trust me word, this band gonna be really big, so be sure to catch their demo before it's out of print.


References: If you like real hardrock/metal and love bands like Winger, Randy Rhoades and early Whitecross, this is definately something for you.


Order info: Check with Krush's webpage http://www.geocities.com/SunsetStrip/1353/~kRUSH
---
OIL
&nbsp "Refine"
Refine is Ron Rinheart's band Oil latest recording. Lyrically I really like their biblical way of addressing different issues. When it comes to the music though I feel like something is missing. They got groove and heavy riffs that are pretty catchy but the problem is that the music is too muddy. I want a clearer soundpicture. Production is good, that's not the problem, it's just that I feel there are too much going on at the same time, I want a more clear soundpicture so I can enjoy the different instruments more. Another thing they could improve is to speed up and go speedmetal all the way. That's the direction I would suggest to this band to go instead of playing this semi-thrash they are doing right now. Anyway, I'm sure many will like this cassette (that's also released on cd), but taste is different and this is just not my kind of thing.


References: Eternal Decision, Jesus Freaks, Deliverance, Metallica, Dark Angel
Order info:
Check with the band's webpage
http://www.oilmusic.com
---
PANTOKRATOR
&nbsp "Even Onto The Ends of The Earth"
Custom Cassette

*&nbsp *&nbsp *&nbsp
Swedish band Pantokrator kicks off with another demo. They continue on with their mixture of death/doom/thrash and black. I like the speedy parts best and I hope they will have more of them in coming releases. Really nice doublekick on the drums! The vocals are of the deep growling style. The sound is more together than their first demo and the production is also better but the vocals are mixed too low and are a bit in the background. Lyrics are scriptural and partly written in swedish... All in all a good tape. It will be really interesting to check out coming releases from this band...
References:
This is something for people that like death/doom/thrash and black.

Order info: Available through Nordic Mision
---
PREACHER
&nbsp "Welcome To Forever"
Custom Cassette
*&nbsp *&nbsp *&nbsp *
The first thing that hit me when I heard this tape was their boldness for Christ. They make no bones in what they believe in and stand for. The lyrics are very scriptural and some of the best I have ever seen!
The music is real Heavy Metal/ Speed Metal and it kicks! It kicks a lot!! These dudes really know how to get a tune crunchy and heavy. But wait... there is only one dude in the band! And he, Tony Block does all the vocals and all the instruments all by himself!! Not bad, eh? A very kompetent dude indeed. The production could be better though and the music gets a bit monotonous at times but nevertheless I can higly recommend this tape to all brave warriors that hold on to REAL METAL!
References:
If you like crunchy Metal this is a must have! The music is similar to early Metallica and also reminds me of good ole' Deliverance from their speed-metal days.
Orderinfo:
Available from
Ultimatum Metal Distribution
---
SANCTIFICA
&nbsp "In The Bleak Midwinter"
Custom Cassette
*&nbsp *&nbsp *&nbsp *
This is another swedish band that play on the heavy side of the Metal scene. The style they play is atmospheric black metal, a style that the devil have misused so long, but now with bands like Antestor and Sanctifica lost ground is taking back! The music have a beautiful atmospherical feel in it and lots of harmonies. Still it's brutal. That's a nice combination that I really appreciate. The singer has a great voice that fits perfect in this genre. Production is good too. My fave is their last tune called "King of Kings and Lord of All". A catchy and speedy tune with an awesome lyric. This is how black metal should sound!
My only complains is that sometimes they loose speed and don't let loose in their playing. It also gets monotonous at times, but most of the time it's really enjoyable.
To say it short this is quality Black Metal with a nice atmospheric feel.


References: Fans of Antestor and Emperor, look no further but get this demo before it's out of print!

Order info: Mail&nbsp sanctifica@earthling.net
---
VITAL DECISION
&nbsp "s/t"
Custom Cassette
*&nbsp *&nbsp *&nbsp *
The demo starts off with an atmospherical and beautiful intro accompanied by spoken words directly from the Bible. The intro breaks into the tune "The Dead Will Leave Their Graves". A tune filled with heavy and harmonical death metal. And this is really Death Metal! Mostly I don't like this genre, cause it's often so repetitive and boring to me. But Vital Decision manages to keep their tunes heavy and varied so it's mostly really enjoyable. Next tune "Live Forever" is not really my taste, I miss something and it's get boring. "Persecution Until The Day of Victory" follows next. A crunchy and heavy tune with an interesting lyrics. The catchy tune "Calling your name" ends the demo in a great way and leaves me hungry for more tunes with this band!
As you probably realized by their name, Vital Decision also have clear Biblebased lyrics that are really pointing to Christ. (That's something I really like, cause to me lyrics are very important.)
The only negative thing I can say about this demo is that it at times gets repetitive and boring. But as I said before most of their stuff is varied and therefore really enjoyable.
All in all this a catchy and enjoyable death metal demo with good production that shouldn't be missed if you enjoy this kind of music. If they continue to write varied tunes and hold their priorities right this band can go far. They surely got the talent.


References: Highly recommended to metalheads that like Metanoia, Dark Tranquility, Morbid Angel and early Mortification.

Order info: Check with Nordic Mission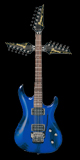 ---