THEOCRACY - Mirror of Souls
With this release Theocracy really sets a new standard and show that Christian bands can rival also the best Secular bands in the Power Metal genre. Fantastic album from the beginning to the end filled to the bone with crunchy rhythmes and catchy hooks. Production is also of the highest caliber. There is also plenty of variation and no fillers on the album. Just quality Power Metal through and through. This is a phenomenal album and a must have for anyone into melodic metal overall and especially for those into Melodic Power Metal!
HARMONY - Chapter II: The Aftermath
Harmony has a sound somewhat similar to Theocracy, but much more progressive. Their sound on this album can be descibed as a mix of Yngwie Malmsteen and Dream Theatre. Interesting is also that Harmony just as Yngwie are hailing from Sweden. Markus Sigfridsson is a very skilled and talented guitar player and his solos is definately a big part of Harmony's sound. Compared with their debut the sound is now heavier and more progressive. Production has also been greatly improved. Highly recommended to fans of Yngwie Malmsteen and Dream Theatre.
HB - Frozen Inside
Ever longed for a Christian band in the veins of Nightwish? Then HB is what you are looking for. This female fronted band from Finland delivers plenty of symphonic and catchy tunes similar to Nightwish. I really like the heaviness some of the tracks have as well the worshipful Biblical lyrics. Fans of Nightwish will definately have plenty to enjoy on this cd.
DRIVER - Sons of Thunder
Rob Rock is a busy and talented man. This is another quality release from him. This time he goes for the classic 80s Heavy Metal sound, and he does it well! The album is filled with catchy hooks and shredding guitar solos. A really cool album and also one of Rob's best.
DELIVERANCE - Deliverance
Yes, finally this classic Speed Metal album has been rereleased! Retroactive Records is really doing great job with remastering and rereleasing of the classics. CD also contains the bonus tracks A Space Called You and Attack. Music is ultrafast, heavy & melodic and lyrics are really to the point. Fans of early Metallica will definately enjoy this cool album.
DELIVERANCE - Weapons of Our Warfare
This album is a classic and one of the best Metal albums ever done! Besides the original tunes it also contains the bonus track "Rescue". Fans of early Bay Area Thrash are gonna drool when they hear this quality release. A classic and one of the best Metal albums ever done.
SEVENTH AVENUE - Terium
This German Power Metal band has really improved! Especially Herbie Langhans voice now sounds better than ever. The production is also excellent this time. Typical of this release is also that almost every track has really catchy and memorable hooks. To sum it up this a really cool album (with a total time of over 70 minutes!) for all you power metal fans out there.
DIVINEFIRE - Farewell
This is the band's last album, aptly titled Farewell. As always the band does a wonderful job with combining the melodic with the extreme. Their style can also be described as Heavy Extreme Symphonic Power Metal with a mix of both of clean and growling vocals. Typical for their sound is also the catchy hooks and choruses. I have greatly enjoyed Divinefires previous albums and I enjoy this as well. I will really miss this band and its unique sound.
X-SINNER - World Covered In Blood
X-Sinner is back with a brand new studio album. This time the band wanted to do an album where the band's energy really shreally shone through. The result is a crunchy sound with loud guitars and tons of energy. As always X-Sinner manages to get that catchy gritty sound and the cool raspy vocals. Highly recommended to fans of early AC/DC and Def Leppard.
KREYSON - 20 Years of Kreyson
This was one of the best releases this year and I was very positively surprised when I heard it. These classic metallers from Czech Republic has been around for 20 years and I have heard some of their tunes before, but it has not been anything that has knocked me to the ground. With this cd however they have managed to pick out their best tracks and rerecord them and the result is an astonishing good classic Heavy Metal album. Wow! Plenty of great hooks, tasty guitar solos and very catchy 80s Metal. Also love their Christcentered lyrics. Fans of Classic Metal bands like Bloodgood are definately gonna love this album!
VENIA - Victory By Surrender
Venia hails from Finland. Like many other bands from this country they have a girl that handles the vocals (and she does it well). Musically speaking it's like a combination of Heavy Metal and Thrash with plenty of symphonic influences thrown in. Really like that the album is so variated and that it's full of guitar solos and catchy hooks. Lyrics are Christcentered and they are both inspiring and encouraging as well. This album definately shows that the band have improved much from their previous EPs and Victory By Surrender is one of the best releases this year. I can highly recommend it to anyone into Heavy Metal, Thrash and Symphonic metal.
STRYPER - Murder By Pride
The masters of Melodic Metal is back on track again! The album is filled to the bone with catchy harmonies, high screams and great guitar solos a la the 80s. The title track sounds just like something that could have been released on To Hell With The Devil or Soldiers Under Command. Forget about Reborn. This albums shows a comeback to their classic 80s sound while still having a modernedge. Great album through and through and definately the best album of 2009!
SAINT - Crime Scene Earth 2.0
On the original release of this album the singer Josh Kramer only sang on 3 tracks. This was a big minus since Josh's vocals is one of the trademarks for the band's characteristic sound. Since neither the band or the fans were really satisfied with the original release the band decided to rerecord several of the tracks and to have Josh singing on all tunes. These changes have really improved the quality of this album and made it to one of band's better after they reformed. Musically it's classic Heavy Metal that will appeal to fans of Judas Priest. In fact they have even covered Invader. Lyrically speaking the album is talking about getting prepared for the end of times is getting near.
METALLMÄSSA - Himmelsväg (Way To Heaven)
Amazing Metal Praise album at full volume! If you want to praise God with real Metal this is the album to check out. It totally blows away all other metal praise albums that have been released previously. The only problem with this fantastic album is that the tunes are all in Swedish so it could be difficult to understand if it is not your native language. The music on this album is played at the Metal Mass events thare are held in the Lutheran churches in Finland. More info about it can be found at
http://www.myspace.com/metallmassa
STRYPER - Headlining Rocklahoma!
Stryper headlined one of the days of the 3rd annual Rocklahoma in Pryor, Oklahoma, USA. Other bands appearing at the event were: Anthrax, Twisted Sister, Skid Row, Great White, Kix, Jackyl, Warrant, Night Ranger and several others.
HERO - Immortal
Immortal shows a big improvement, especially when it comes to the vocals. You can really hear that Michael Hero has taken song lessons. Besides the vocal improvements, the band has also incorporated more catchy hooks to their tunes. The album has a really heavy and groovy sound and the more you listen to it the more it grows on you. Fans of bands like Him will definately enjoy Hero's heavy and melodic sound. Really cool stuff and definately one of the better albums this year.
NARNIA - Course of a Generation
German Pascual is the new vocalist of Narnia and he does a great job taking care of the vocals on Narnia's new album. Musically this is heavier overall than previous albums with a somewhat different sound. It's still very melodic and catchy but it is also much heavier. Production is excellent and overally this is one of Narnia's absolute best albums. A great cd that I really can recommend!
MASTEDON - 3
Mastedon is back! Fans of commercial hardrock/metal will definately rejoice to hear that John & Dino Elefante is finally back with a new album. Production is most excellent and the album is filled with hooks. Cool stuff, reminding of their previous albums, just wished there were some more heavy tunes.
REINXEED - Higher
Hailing from the North of Sweden ReinXeed gives us a really cool album filled with symphonic power metal. The vocalist Tommy Johansson has a fantastic voice and a great range. Another big strength are the amazing guitar solos. While the sound is not the heaviest, this is so extremely catchy and melodic. A phenomenal commercial metal album!
MAIN LINE RIDERS - World Shaker
Do you like bands like AC/DC and X-Sinner? Then this album is definately something for you. Catchy melodic metal with raspy voice is a great combination and this album is no exception. Cool stuff.
ANTIDEMON - Satanichaos
Antidemon from Brazil is back again with a new release filled with brutal Death Metal. With improved production and much more variation this is by far their best album. They have also made the tunes more catchy. It is still very brutal, but now it's catchy as well. A really cool brutal Christcentered album and definately one I can recommend.
THE CRUCIFIED - The Complete Collection
The punk thrashers The Crucified is back again! Not with a new album, but at least they are touring again. The cool thing is also that they compiled their career so far with this megacool box containing two cds and a dvd! The box contains ALL their tunes, including their two albums as well as demos and unreleased tracks. It's also cool to see the band live on the dvd. Besides great music it also contains the complete history of the band. All in all a great collection and definately a must have to all fans!
BELIEVER - Gabriel
After years of abscence the progressive thrash metallers are back again with a new album! The album is very diverse musically and more experimental than ever. Some fans totally love this album and some doesn't like it at all, so to each own.
INTENSE MILLENIUM RECORDS
For many many years the classic Christian Metal releases on Intense/Frontline records have been out of print. But not any longer! Cause this year a new record company saw the light and bought all the rights so they now can rerelease the classic metal albums by Bloodgood, Vengeance Rising,Deliverance, Sacred Warrior etc.
GOLDEN RESURRECTION - Glory To My King
Outstanding debut album! This album is filled to the bone with tons of melodic hooks and fantastic guitar shredding making it a fantastic metal release not to be missed! Definately the Metal album of the year and already a classic.
AUDIOVISION - Focus
Great metal album with lots of hooks and a cool mix of 70s and 80s metal featuring members from Narnia, Modest Attraction and Veni Domine! The cd also features a fantastic cover of Stryper's classic "The Way".
CRYSTAVOX - The 20 Year Mix
Really coool release with one of the finest melodic metal bands from the early 90s. Many of Crystavox classic tracks from their two albums have been remastered giving them a clear crisp production and more punch. The box also includes a DVD with unreleased videos and interviews. Cool stuff and definatelya must have for all Crystavox fans.
SAINT - Hell Blade
Thundering Heavy Metal and great production makes this release one of Saint's very best! This is true Heavy Metal just as it should sound.
NARNIA SAYS GOODBYE
This was also the year when one of the greatest melodic metal bands of all times called it quits. :-( Ever since its inception Narnia has been one of the very best metal bands, Christian and Secular, always giving us quality albums and great live shows. But this year the band decided to quit. Thanks for a job well done, you will be greatly missed!
HB - The Jesus Metal Explosion
This talented Finnish Metal band follows up Frozen Inside with a new album filled with symphonic metal and beautiful female vocals. I really enjoy the heavy tracks but unfortunately the cds also contains too many ballads for their own good. Still a cool album though.
ILLUMINANDI - In Via
Illuminandi hails from Poland and this is their 2nd fullength album. Musically they play symphonic death metal giving us an unique smorgasbord of cello, violin, growling, clean vocals, catchy hooks and crunchy guitars. This is a really cool combination of heaviness and catchy harmonies. Music is both varied, symphonic and heavy and the production is excellent. This is definately a must have if you are into heavy & crunchy Symphonic Death Metal with melody.
17 page article about Christian Metal in Sweden Rock Magazine!
Sweden Rock Magazine - the leading metal magazine in the Nordic countries (Sweden, Norway, Finland, Denmark, Iceland) did a 2-part special article about Christian Metal with a total of 17 pages! The wellwritten articles were published in the December 2010 and January 2011 issues and contained lots of interviews and history about the most important events in Christian Metal.
REINXEED - Majestic
Excellent symphonic power metal with tons of hooks and fantastic guitarshredding makes this album ReinXeeds best so far. Power Metal fans should definately check this out.
STRYPER - By His Strypes Book
This is really cool high quality book covering the 25 first years of Stryper. The book contains 200 pages filled with great pictures from Stryper's career. An outstanding book and a must have for any Stryper fan!
VENGEANCE RISING - Human Sacrifice
Finally this classic Thrash album has been rereleased! This is the classic of classics and definately Thrash at its finest. Fast, intense, varied, brutal but yet melodic and with amazing guitar shredding and drums this album just rules from the beginning to the end! Every musician in this band just shreds and the commanding razorsharp vocals just fits perfect with their noncompromising radical Biblical lyrics. The remastering also makes the album sound even better than when it was originally released back in 1988. If you claim to be a Thrash fan and still are missing this outstanding release you are definately missing the diamond of Thrash!
VENGEANCE RISING - Once Dead
Another great thrash album that has just been remastered and rereleased.
BLOODGOOD - Bloodgood
Bloodgood's groundbreaking debut album remastered and rereleased. Great album with Heavy Metal and even some Thrash Metal.
BLOODGOOD - Detonation
Bloodgood's 2nd album and the one that many considers their best is now remastered and rereleased.
SACRED WARRIOR - Rebellion
The band's first album is now finally remastered and rereleased. Really cool heavy metal album with guitar solos and instant hooks that stays in your head.
SAINT - Alive Forever DVD
Finally this apocalyptic heavy metal band releases a DVD! The DVD features two videos from Hell Blade as well as live gigs from 2010, 2005 1985 and 1986. Cool stuff and definately a must have for all Saint fans.
METAL MISSIONARIES: The Assimilation Of Extreme Christian Metal Into Mainstream Consciousness
A really cool ebook featuring in depth interviews with over twenty Extreme Christian Artists, including, Becoming The Archetype, Corpus Christi, Grave Robber, Drottnar, Fearscape and many more.
THEOCRACY - As The World Bleeds
Fantastic Power Metal release! Varied, progressive yet melodic and also with thrashy influences this album just simply rules. This time the band has also got a new guitar shredder that gives us plenty of solos to enjoy. Lyrics are as always when it comes to Theocracy inspiring and very well written. This is quality Power Metal and any band of this genre will definately enjoy this fantastic album. Definately the best Metal album of 2011.
THEOCRACY - Mirror of Souls Digibook
Talking about Theocracy, this was also the year when they released their 2nd album on a really cool digibook. As bonus track they also added the single Wages of Sin, previously released in Japan only.
STRYPER - The Covering
A really cool cover album where Stryper shows that they can pull off tunes like Heaven and Hell, Highway Star, The Trooper and Breaking The Law. The cd also contains an brand new track God, filled with great guitar solos and great vocals, a track that really makes me hungry for a new album with own material!
THE METAL BIBLE RELEASED IN ENGLISH AND GERMAN!
This was the year when the Metal Bible finally saw the light in English and German. The response has been amazing and 12 000 copies of it was distributed at the German metal festival Wacken Open Air (The World's biggest Metal Festival)! Soli Deo Gloria. More information about this megacool Bible edition that contains the New Testament and life stories/testimonies from metalheads like Nicko McBrain (Iron Maiden), Dave Ellefson (Megadeth), Peter Baltes (Accept), Michael Sweet (Stryper) can be found at
www.themetalbible.com
GOLDEN RESURRECTION - Man With A Mission
The Melodic Metal masters from Sweden are back again with a new album! It is filled to the bone with great hooks, amazing guitarplay and encouraging Christcentered lyrics. Compared to the band's first album the music is now much more symphonic, sounding like a mix of Glory To My King and the band Flagship.
REINXEED - 1912
Tommy Johansson, the guitarshredder and vocalist of ReinXeed is definately one of the most talented and productive persons I know of. The quality of what he releases is also very good. This album is no exception. Great melodic and symphonic power metal with plenty of hooks and amazing guitar solos.
SAINT - Time's End
Finally this classic Heavy Metal album has been rereleased! It has also been remastered which makes it even more enjoyable. Fans of Judas Priest will eat this up.
SAINT - Too Late For Living
This is one of the best Heavy Metal albums ever done!Great guitar solos, heavy riffs, great vocals and lyrics mainly from the book of Revelation makes this an incredibly good album. The remastering also makes a fuller and more crispy sound where more details can be heard.This is a fantastic album from the beginning to the end and definately a Heavy Metal classic! Fans of classic Heavy Metal bands like Judas Priest will beamazed when they hear this excellent album.
DIVINEFIRE - Eye of the Storm
Divinefire is back! Yes, after years of abscence the band is now back again with a brand new album. Like their previous releases this is a great mix of the melodic and extreme mixing clean and growling vocals in a symphonic layer and spiced up with plenty of hooks and Christcentered lyrics. Great to have this quality band back again. They have been greatly missed!
STRYPER - Playing at Sweden Rock Festival
This was also the year when Stryper played at Sweden Rock Festival which is one of the biggest metal festivals in Europe where over 30 000 metalheads gather every year. They played along with bands like Judas Priest, Whitesnake, Ozzy Osbourne, Saxon, Accept, Crashdiet, Rhapsody of Fire, Helloween, Iced Earth, Rob Zombie and many more.
KREYSON - Angel On The Run
Really cool rerelease of the band's debut album. Classic Melodic Metal with plenty of hooks that stays in your head.
BRIDE - Silence Is Madness
This is one of the classic Bride releases! After being out of print for years it has finally been rereleased. It has also been remastered which makes it so much more enjoyable with a more clarity in the sound and more punch in the drums. Silence is Madness contains some of Bride's very best tracks like their fantastic rocker Until The End We Rock. A fantastic track that makes you wanna cruise down the streets with the windows down and the stereo on full volume. This is what a rocker should sound like! Some other great tracks are Fool Me Once, Evil Dreams and Under The Influence. Singer Dale Thompson has a great voice also does plenty of really amazing high pitched screams on this cool release. Really cool Heavy Metal album spiced up with some speed metal and even some blues influences thrown in.
NORDICFEST - End of an era
After 10 successful years the Christian Metal Festival Nordicfest has called it quits. :-( The festival took place every year in Fall in Oslo, Norway. During the years great bands like Divinefire, Golden Resurrection, Horde, Extol, Lengsel, Mortification, Rob Rock, Narnia, Antestor, Crimson Moonlight, Vardoger, Antidemon, The Crucified, Theocracy, Leviticus, Harmony and many more have played! Legendary Metal Pastor Bob Beeman from Sanctuary International has also been teaching there on many of the festivals. A really cool thing with this festival has also been the cave deep in the mountain were most people slept. This is a festival many will miss and I really want to give a big thank you to Pål, Oddmund and everyone else that has organized this great festival. You can feel proud of your hard work in spreading the Kingdom of God in the Metal world.
http://www.nordicfest.no
PLACE OF SKULLS - Love Through Blood
Rerelease of their ep Love Through Blood. Also added the live tracks Wartime and Don't Let Me Be Misunderstood as extra bonus. Really cool Doom Metal with Christcentered lyrics.
BRIDE - Live To Die
Another cool Bride release that has now been remastered and rereleased. Includes the fantastic track Heroes that contains one of the longest screams I have ever heard. Great to hear this album again! I'm really thankful for labels like Retroactive Records for rereleasing and remastering classic albums with Saint, Bride etc so they get available again.
CROSSFORCE - Rockin' Til the Final Day
Crossforce was one of those promising 80s metal bands that never was signed. Roxx Productions has however succeeded to find recordings of their demos and live shows and have now compiled them into this cd. Cool stuff with that true 80s melodic hardrock/metal sound and some really cool guitar shredding.
TERRAPHOBIA - Evilution
Looking for some intense, brutal and noncompromising Death Metal of highest calibre? Then this album is what you are looking for, cause this is quality Death Metal! Fans of Scrolls-era of Mortification will totally enjoy this release! Although the music is brutal to the bone it still has catchy harmonies and guitar shredding thrown in that makes music varied and really memorable. Production is excellent as well. Lyrically the band tackles many different areas from the crucifiction to abortion to politics, from a Christian point of view. The cool thing is also that almost all instruments and vocals are done by one person only - Michael Jelinic that is. Really amazing that one person can do such a great album! Any fan of Death Metal should definately check out this quality release.
TOURNIQUET - Stop The Bleeding and Psycho Surgery released on vinyl!
Vinyl has come back! Vinyl Remains has released the progressive Thrash band's Tourniquet's first two albums on coloured vinyl! They look really cool and it's great to see good looking covers on BIG vinyls rather than small cds.
TOURNIQUET - Antiseptic Bloodbath
After years of wait finally Tourniquet strikes back with a new album! This time they managed to do one of their best albums ever. The album is filled to the bone with Thrashy rhythmes, timechanges, variation and progressiveness in true Tourniquet style. Any fan of this band will definately enjoy this excellent album.
SAINT - Desperate Night
Wow! Saint delivers again with a fantastic album with True Heavy Metal. In fact this is in my opinion their 2nd best album ever only next to the classic Too Late For Living. Production is excellent and the tunes are both heavy and catchy and lyrics are as always Christ centered. If you claim to be a true fan of Heavy Metal this album should not be missed in your collection. Fans of Judas Priest especially will totally love this classic album.
THE METAL BIBLE RELEASED IN SPANISH AND POLISH!
This was the year when the Metal Bible finally saw the light in Spanish and Polish. More information about this megacool Bible edition that contains the New Testament and life stories/testimonies from metalheads like Nicko McBrain (Iron Maiden), Dave Ellefson (Megadeth), Peter Baltes (Accept), Michael Sweet (Stryper) can be found at
www.themetalbible.com
DRIVER - Countdown
The classic metal band Driver headed by Rob Rock is back again with another great Heavy Metal album. Besides Rob Rock the band consists of the great musicians Roy Z, Reynold "Butch" Carlson, Ed Roth and Aaron Samson.
JOSHUA - Resurrection (Collectors edition)
Remember the Intense Defense album by Joshua? This album is in many ways a follow up to that Melodic Metal classic. Joshua Perahia has such a great feel for making catchy hooks and shredding on the guitar, which he clearly shows on this release called Resurrection. Compared to Intense Defense this album also has a heavier, yet melodic sound. Production is excellent. Great to have Joshua back, you have been greatly missed!
AFFECTOR - Harmagedon
This is a must have if you are into Progressive Metal in general and especially Dream Theatre. Fans of Progressive Metal will definately enjoy this quality release. Lyrically Harmagedon is a concept album about the book of Revelation. If you have been looking for a quality Christian band in this genre this is the band/album you have been looking for. Highly recommended.
DAVID BENSON - Premonition of Doom (Remastered)
This is David Benson's third release that originally saw the light in 1997. It has been out of print for a long time, but thanks to Retroactive Records Premonition of Doom is now remastered and rereleased. Compared to the original the production is so much better on this one, making it sound like a new album with a thick, full and heavy sound. Musically this is Heavy and cathy Doom Metal all the way that will appeal to fans of Ozzy Osbourne. Lyrically however, this is full on for Christ. All in all a great album and definately an album to check out if you are into Doom Metal.
ANTESTOR - Omen
Antestor, the classic Norwegian black metallers for Christ have finally returned with a new album! This time they explore new ground musically on the brutal side.
ULTIMATUM - Heart of Metal Box
American thrashers Ultimatum celebrated 20 years with a very special box containing lots of music and rare merchandise. This mega cool box was limited to 100 copies only.
SEVENTH AVENUE Says Goodbye
Sadly the German Power Metal band Seventh Avenue has decided to call it quits. The band started back in 1993 and has released the albums Rainbowland, Tales of Tales, Southgate, Goodbye, Between The Worlds, Eternals and Terium.
This was an excellent year in Christian Metal featuring great comeback albums with Extol, Sacred Warrior and Bloodgood! Many quality worldclass releases saw the light this year and this was, in my opinion, in fact, one of the best years ever in Christian Metal! But all was not good and happy though, since 2013 was also the year when we saw some real persecution against Christian Metal when an angry mob of satanists attacked the band Antestor.
EXTOL - Extol
The masters of Technical Death Metal have returned! Extol from Norway are back again with a really cool release featuring their classic sound from their first two albums.
SACRED WARRIOR - Waiting in Darkness
Finally after years of absence Classic Metal band Sacred Warrior have returned! Their comeback album is a solid mix of Classic and Modern Metal. New vocalist is Eli Prinsen from The Sacrificed.
BLOODGOOD - Dangerously Close
2013 was the year of great comebacks in Christian Metal. One of the most anticipated was Bloodgood's return to the scene. They have not rest on the laurels but managed to do one of the best albums this year with really catchy Christ centered Melodic Metal. Great stuff and highly recommended release.
ANTESTOR - Brutally Attacked By Satanists!
We are definately living in the end times and soon Jesus will return. A sign of this is that persecution against Christians will increase. Legendary Christian Black Metal band Antestor from Norway had to face this first hand when they were touring Brazil. Afte the band left a successful gig in Belo Horizonte, Brazil a mob of very angry and violent satanists bearing banners with anti-Christian and anti-Antestor messages, attacked the band, spat on them, beat them and kicked them. According to Antestor, if it had not been for the timely arrival of the Brazilian police, things might have gotten worse. This shows how important it is to keep the Christian Metal bands that are on the frontline in prayer, especially those that reach out to the extreme metal fans into death and black metal.
METAL FOR JESUS - Metal For Jesus
This is a really cool Melodic Metal album made for evangelization! It has tons of hooks and Christ centered lyrics. Musically it contains some of the very best of the Swedish Metal scene with bands like Golden Resurrection, Narnia, Audiovision, Divinefire and Modest Attraction, making it a great introduction to Christian Metal. Lyrically it also sums up the Christian message in a nutshell, making it a great album for evangelization. This album is one of a kind and definately one to check out if you are into Melodic Metal.
http://www.metalforjesus.org/metalforjesus.html
STRYPER - No More Hell To Pay
Have you longed for a full comeback of Stryper's classic sound in the 80s? Well, now you don't have to wait any longer cause Stryper is back with their strongest album since To Hell With The Devil! The catchy hooks and amazing guitar solos are all back again. So is Michael Sweet high falsetto screams! Actually he pulls off some of his best screams ever on this album. Lyrically several tunes are picked from the book of Revelation in the Bible. Production is excellent and it is an amazing album with no filler tunes at all. No More Hell To Pay has also been selling very well and took place #35 on the Billboard Top 200 chart (the 200 most sold albums in USA). Besides CD it is also released on double LP on yellow and blue vinyl. To sum it up it is a Melodic Metal master piece and definately one of their very best albums ever. Check it out, you won't be dissapointed.
GOLDEN RESURRECTION - One Voice For The Kingdom
What a great album this is! Melodic Metal at its finest with tons of hooks, amazing guitar solos and Christ centered lyrics. An excellent album and definately one of the very best this year. If you like guitar shredding metal this is the album to get.
THEOCRACY - Theocracy (Reissue)
10 years after this classic album was originally released it has finally been reissued. It has been completely remixed but the most important improvement is that all drums have been rerecorded by a real drummer. This is a phenomenal album, but one of the few weak moments on it was the programmed drums. However, with a real drummer instead this weakness is now no more and what we have here is an excellent and varied quality Melodic Power Metal album for all fans of this genre.
GRAVE DECLARATION - When Dying Souls Scream Praise
Grave Declaration are now out with their anticipated full length album, and it has definately been worth the wait! Cause here we have an excellent Atmospheric Black Metal Praise album. Not for the faint of heart, but for those that want to praise God loudly with brutal music. Excellent album both musically and lyrically and definately a most have for anyone into atmospheric black metal that glorifies Christ.
DEUTERONOMIUM - The Amen
Finnish Death Metal pioneers Deuteronomium that has been around for 20 years are back with their best album ever! They have returned to their roots and done an amazing album filled with Heavy and catchy Death Metal with praise lyrics. Great album and definately one of the best this year.
DELIVERANCE - Hear What I Say
The masters of Speed Metal is back again with a final album and the band goes out with a bang with their best album for years featuringmusic that kinda sounds like a combination of their first Speed/Thrash albums and Learn. Cool stuff and definately the best Deliverance album for years. Drummer on this release is the legendary Jayson Sherlock from early Mortification, Horde and Paramaecium.
HERO - Afterlife
Swedish band Hero have found an unique and cool style of their own and done a really cool and Heavy Gothic Metal album filled with catchy rhythms.
STRYPER - Second Coming
Stryper have created so many excellent tunes. On this special release many of their best tracks from their first 3 albums have been rerecorded. The result is simply amazing and several of their classics actually sounds better than ever! The improved production makes the sound fuller and heavier. Great album all the way through and definately a most have for any Stryper fan. Besides CD it was also released on double LP on yellow vinyl.
LEVITICUS - The Strongest Power (Reissue)
Classic Metal band Leviticus from Sweden have now rereleased their 2nd album on Ektro Records. It has been remixed and sounds better than ever. Back in 1985 British Metal Magazine Kerrang called it "One of the best records of the year".
VENGEANCE RISING - Human Sacrifice Picture Disc LP
This album is the classic of classics in Thrash Metal! To celebrate its 25th anniversary Roxx Productions did a special release of it on picture disc vinyl. With such a cool cover like this it looks amazingly good on Picture Disc Vinyl and looks fantastic on the wall. The LP was printed in a limited edition of 300 copies only.
THE METAL BIBLE RELEASED IN DANISH!
This was the year when the Metal Bible saw the light in Danish. It was released just in time for the festival Roskilde and the interest was huge. In just a few days 9 000 Danish Metal Bibles were distributed! Hordes of people came to get a copy of it with many interesting talks about faith as a result. The Metal Bible is now released in 7 languages, besides Danish it is also relased in Dutch, German, Swedish, Polish, English and Spanish. More information about this megacool Bible edition that contains the New Testament and life stories/testimonies from metalheads like Nicko McBrain (Iron Maiden), Dave Ellefson (Megadeth), Peter Baltes (Accept), Michael Sweet (Stryper) and many more can be found at
www.themetalbible.com
This was a happening year with many great and cool releases including several LPs! This was also the year when Narnia and Barren Cross reunited, Veni Domine quit and Saint got a new vocalist.
NARNIA IS BACK!
Yes, the lion has awakened from the dead with a roar and are ready to once again Rock The World for Jesus! Narnia celebrated the reunion by playing on festivals like Metallsvenskan and Gullbranna. They are also working with a new album. More info to come...
JERUSALEM - First Three Albums Remastered and Released as a Box
First 3 albums of this Classic Christian Hardrock band are now available again in this cool box. They tunes have been remastered making them sound better than ever.
DELIVERANCE - Weapons of Our Warfare LP
Deliverance second album is a Speed/Thrash Metal Classic that now has been rereleased on LP! This got to be one of the coolest covers ever made.It was released in a limited edition of 300 copies. 100 of them on blue vinyl.
MORTIFICATION - First Album Released On LP
Mortification's selftitled album has never been released on LP until now! Soundmass from Australia has done a really cool LP version of this classic Death Metal albumthat paved the way for Christian Death Metal.
ULTIMATUM - Heart of Metal Released On Green LP
American Thrasher's Ultimatum continues to celebrate 20 years by releasing Heart of Metal on green vinyl.
VENI DOMINE SAYS GOODBYE
After serving the Lord for many years the band had called it quits. :-( Before they disbanded they however released their last 7th album called Light. They closed the circle by ending the album with a remake of their classic Oh, Great City from their debut Fall Babylon Fall. Veni Domine will be greatly missed.
ULF CHRISTIANSSON - Det Var Värt Alltihop (It Was Worth It All) Biography
Legendary Christian Hardrockers Jerusalem has been one of the bands that has stand in the frontline of Christian Metal ministry ever since they started the band in the late 1970's. Ulf Christiansson also the frontman of the band and in this biography (in Swedish) he shares openly what his happened in his own life and with Jerusalem over the years. Very interesting and inspiring book with lots of spiritual insights.
MESSENGER - Perfect Storm
Messenger hails from Sweden and plays Melodic Metal. They are a young and hungry band that just get better and better which really shows on this very enjoyable Melodic Metal EP. It's both catchy, melodic and Christ centered. Last track is a fantastic and very rocking Swedish version of How Great Thou Art!! Wow, this is definately worship at full volume! Messenger is a great talented band. Make sure you don't miss the new wonder of Swedish Melodic Metal.
BARREN CROSS IS BACK!
After years of absense the band is now officially back together again with all the four original members: Michael Drive (Lee) - Lead Vocals & Guitars, Jim LaVerde - Bass, Keyboard Pedals & Backing Vocals, Ray Parris - Lead Guitars & Backing Vocals and Steve Whitaker - Drums & Backing Vocals. To celebrate their reunion the band has released a brand new live album featuring 3 new tracks! The live CD is called Birth Pangs and contains 16 classics + 3 new tracks.
BARREN CROSS - Re-release of Rock For The King
Barren Cross has reformed and re-released their debut Rock For The King. The remaster has improved the sound making the tunes sounding better than ever.
MICHAEL SWEET - Honestly (Biography)
Michael Sweet, the vocalist of Stryper has taken the time to write his biography. He has a lot to tell from both the good and the tough times of his life. Without candycoating anything he talks honestly about the ups and downs in Stryper and his solo career. Over it all the red line in the book is that no matter what we face God is still there for us and takes us through also the tough times. Definately an interesting read, especially for all Stryper fans.
SAINT - Josh Kramer leaves the band
Long time singer Josh Kramer have decided to leave the classic Heavy Metal band Saint. New vocalist is Brian Phyll Miller, who you can hear on Saint's latest album Broad Is The Gate.
NORTHERN FLAME - Glimpse of Hope
Wow! Such a great albums this is. 100% Melodic Metal with catchy hooks and very shredding guitars (Niclas Buss guitar solos are phenomenal!) and positive Christ centered lyrics. Great stuff! Fans of guitar shredders like Rex Carroll (Whitecross) and Carl Johan Grimmark (Narnia) especially will love this. Definately a must have for all into Melodic Metal. Check out the new wonder of Christian Metal from Finland!
DARK NIGHT - Tales After Midnight
This is a really cool album if you are looking for a Christian band in the veins musically of King Diamond. Horror Metal this is and it is definately not for everyone, but Dark Night is a wellneeded light shining in the darkness of this genre.
EMPIRE 21 - Empire 21
Carl Johan Grimmark, the master shredder of Narnia is back with a new band. He has teamed up with Tobias Enbert (the drummer of Harmony) and Ricard Hulteke on vocals, Andreas Ålöv on bass and John Svensson on keyboards. Music is very enjoyable melodic metal with an own twist to it. ¨
IN TUNE - Dave Williams
In tune is a very wellwritten & practical music ministry book by Dave Williams, who is the director of Meltdown Music Ministries in the United Kingdom. With 30 years of experience of Christian Metal ministry he surely knows what he is talking about. The book features tons of practical advice and helpful information about how to use your band as a ministry to reach out to the Metal world with the great news of Jesus. I would say that if you play in a band and want your band to be a useful tool for God, then this book gives you all the practical tools to do it in real life. A true handbook for Christian Metal Ministry!
www.meltdownchm.co.uk
Harmony is a band that never dissapoints. They always deliver and new album Theatre of Redemption is no exception. Tight, wellproduced Melodic Metal with Progressive influences. New guest vocalist on the album is Daniel Heiman who does a great job. Cool stuff overall. Available on CD & LP as well as a cool box (limited edition).
STRYPER - Live at the whisky
Stryper is a fantastic live band which really shows on this CD/DVD featuring both classics as well as a couple of the new tracks from latest album NMHTP. The gig was recorded on a small club which makes you come closer to the band and it almost feels like you are on the gig yourself!
HILASTHERION - Signs of the End
Great melodic, catchy and yet progressive Death Metal from Finland! A great Death Metal album with really cool Christcentered lyrics.
PANTOKRATOR - Incarnate
Pantokrator is a classic Death Metal band from Sweden. With this release they have taken the step from being a good band to becoming a great band. Production is top notch and music is more catchy and melodic and also includes some beautiful female vocals which makes their Brutal Death Metal sound more variated and enjoyable, making this their bestalbum to date. It is released on both on CD and LP. Definately a must have for all Death Metal fans.
BLOODGOOD - Out of the Darkness (Remastered)
Classic Heavy Metal at its best and a True Heavy Metal classic! One of the best Heavy Metal releases have now finally been remastered and rereleased for all to enjoy.
BLOODGOOD - Rock in a Hard Place (Remastered)
Great Classic Metal release that now sounds better than ever! All tracks have been remastered and bass tracks rerecorded (since there were severe problem with the mixer board on the original recording, so the bass tracks was never actually recorded!) But now we can finally enjoy this excellent release as the band intended from the beginning.
X-SINNER - Greg Bishop leaves the band
Greg Bishop, the founding member and lead guitarist of X-Sinner has chosen to retire both from the band and music overall. Unfortunately this also seems to mark the end of the Classic Metal band X-Sinner :(
MASHIAJ - Vomitiva
Fast and catchy Thrash from Venezuela.
MALAKH - Abnormal Killer
Cool Christ centered Black Metal from South Corea! A must have for fans of Horde.
STRYPER - Fallen
Melodic Metal band Stryper released Fallen and blowed the fans away with their heaviest album so far. It went straight to the U.S Top 50 at #43, on the Billboard 200 and moving over 10,000 units in it's first week!Brilliant album with a heavy and catchy sound.
SKALD IN VEUM - 1260 Days
Masked original Swedish band with a brutal blackish sound with some cool folk influences.
ONE BAD PIG FOREVER - Carl Phelan (Biography)
The one and only Punk/Thrashers One Bad Pig has been graced by a biography! Besides telling the story of the band with some really crazy road storiesit also features many fans that talks about what the band has meant to them and how One Bad Pig has helped them closer to Christ.
METAL BIBLE IN FRENCH & BULGARIAN!
The special Bible featuring the New Testament and the life stories from many metalheads have now also been released in French and Bulgarian! With these two new languages added it has now been released in 10 languages!
www.themetalbible.com
A CELEBRATION OF THE DEATH AND RESURRECTION
Excellent theme album about Easter! Awesome collection from Roxx Records with tunes talking about Christ's Death and Resurrection and what it means to us today.
CRIMSON MOONLIGHT - Divine Darkness
After many years of wait black metallers Crimson Moonlight FINALLY released their long awaited album! And it has been worth the wait delivering a very intense and fast albumin true Crimson Moonlight style.
THEOCRACY - Ghost Ship
Outstanding Power Metal album with Theocracy filled with catchy harmonies, heavy riffs and lyrics that gives food for thought. Excellent as always, Theocracy never dissapoints!
CHRISTIAN METAL - History, ideology, scene
Marcus Moberg has made a very good comprenhensive study about Christian Metal featuring its history, ideology and how the scene works overall and also differences and similiarities with the Secular Metal scene. A cool book well worth reading!
LEVITICUS - In His Service (Box)
Classic Melodic Metal band Leviticus has been around for 35 years! To celebrate this they have released this cool box featuring all their studio albums + the DVD Live at Bobfest 2003. All their albums have been remastered. There is also a thick booklet with the band's history and photos. Very cool box and the remasteringhas truly made the tunes sounding heavier and better than ever. A must have for all Leviticus fans!
REY PARRA RETURNS TO SACRED WARRIOR!
Heavy Metal band Sacred Warrior is happy to announce the return of Rey Parra as lead vocalist for the band. If you are not familiar with his voice it is similar to Geoff Tate of Queensryche.
METAL BIBLE RELEASED IN CZECH!
With the release in Czech the Metal Bible is now released in 11 languages!
www.themetalbible.com
NARNIA - Narnia
Swedish Christcentered Melodic Metal band Narnia is back again! They deliver one of their best albums ever with professional production and great catchy tunes with plenty of amazing guitar solos to enjoy. Excellent Melodic Metal album (released on both CD and LP) and one of their very best ever!
NARNIA - Andreas Passmark leaves the band
Some time after the new album was released long time bass player Andreas Passmark realized that he has so much going on so the time was just not enough to be able to be in Narnia any longer, so he choose to leave.New bass player is Jonathan Samuelsson (formerly in Safemode).
STRYPER - To Hell With The devil 30th Anniversary Tour!
Stryper celebrated the 30th anniversary since the release of To Hell With The devil with a very cool special anniversary tour all over the USA!They even used the original cool yellow and black costumes that they used 30 years ago! Setlist included the whole THWTD album + an extra set with classics from other albums.
METAL MISSIONARY - The Steve Rowe Story (Biography)
Vic Cambell has done an outstanding work with putting this cool biography together. Steve Rowe, the vocalist and bass player of Mortification shares very personally about his life, Mortification, funny road stories and also his struggle with cancer, the victory over it and how the cancer treatment still affects his body today. Very interesting and touchy read from a true Metal Missionary!
HB says farewell
The Symphonic Metal band HB from Finland are calling it quits. :( On December 10, 2016 they played their farewell concert in Germany at Christmas Rock Night. They told the audience that they had decided to go their own ways in mutual agreement.
ONE BAD PIG - Love You To Death
The pig thrashers are back again! It's catchy, funny and full on for Christ. Great comeback album and one of their best ever!
MORTIFICATION - Scrolls of the Megilloth LP
This Death Metal Classic is re-released on limited edition red vinyl. Cover picture has also been enhanced and you can now see more details.
This was the year when XT when finally returned with a brand new and excellent album! There were also several great re-releases by Holy Soldier, Guardian, Sacred Warrior,Guardian, Vengeance Rising and more.
SEVENTH ANGEL - Demo Collection (Bombworks Records)
Classic British Thrashers Seventh Angel have dug up their demos, so we can enjoy different versions of album tracks and also some rare unreleased tracks!All tracks have been remastered making them sounding better than ever. Cool album and a must for all Seventh Angel fans.
MELECH - Melech Ha Olam (Nordic Mission)
Melech is cool new band featuring Karl Walfridsson and Rickard Gustafsson of Pantokrator. Stylewise it is brutal but more catchy and more folk influenced than Pantokrator.Lyrics are sung in Swedish and are translated to English in the booklet. The album is released on both CD and LP. Very cool and professional albumfor all into stuff that is both brutal and melodic.
METAL MISSIONARIES DVD (Rottweiler Records)
Cool DVD featuring plenty of interviews with metal musicians about the concept of Christian Metal - why we are doing this and how it works to combine the radical message of Jesus with brutal metal music. Cool documentary and well worthy checking out.
GUARDIAN - Fire And Love (Legends Remastered) Retroactive Records
Fire and Love is a classic melodic hardrock album with some of the best Power Ballads ever! Originally released 1990 all tunes have now been remastered makingthem sounding better than ever. Jamie Rowe has a cool raspy voice fitting the bluesinfluenced commercial hardrock sound well. Excellent album highly recommended for all melodic rockers. Rereleased on CD and orange and black vinyl.
SACRED WARRIOR - Master's Command (Roxx Records)
Master's Command is a True Heavy Metal Classic! Fans have been longing for years to have it rereleased and finally it is out again.It has been released on both CD and blue and black vinyl. Due to the remastering we can now enjoy more details and a crisper sound. An outstanding Heavy Metal classic in all ways and a must have for all fans of Heavy Metal.
DELIVERANCE - Deliverance (Roxx Records/No Life 'til Metal)
Deliverance's selftitled album originally released 1989 stands the test of time as one of the best Speed/Thrash albums ever. However, in USA itwas not released on LP until now. Therefore the band did a campaign to release it on both black and red vinyl. Cover has been enhanced and the tunes remastered making a fuller sound.
MORTIFICATION - Post Momentary Affliction (Soundmass)
Post Momentary Affliction is Mortifications third album and has long been out of print on LP. It is great that Soundmass now have rereleased it on LP and also with the original cool cover with enhanced artwork.
XT - Saved By The Blood (Talking Music)
Björn Stigsson of Leviticus also started up the band XT along with Sonny Larsson long time ago. XT released 3 albums and has since then rested for many years, butnow they are back again with a brand new album on both CD and LP. Great comeback album with a heavy sound and maybe the best Metal album overall 2017! Something I really enjoy with this album is the epic trilogy about the Last Supper, The crucifiction and Resurrection of Jesus. The 3 tunes fit perfect together portraying the core of what Christianfaith is all about. I have seen the band live and there they showed clips on a big screen from a Jesus movie where the music and lyrics were perfectly synched to themovie. Very cool and powerful!
HOLY SOLDIER - Last Train (Roxx Records)
Great Melodic Metal never rusts or gets old. This album is a great example of this. Plenty of great hooks and guitarplay can be enjoyed on Last Train that now has been remastered and rereleased on CD and on black and red LP.
NEW BASS PLAYER IN STRYPER
Timothy Gaines is no longer in Stryper. New bass player is Perry Richardson (formerly in Firehouse).
VENGEANCE RISING - Human Sacrifice Remastered(Roxx Records)
Human Sacrifice is the classic of classics in Thrash Metal! With the remastering we can now enjoy this Thrash metal feast even more.Really cool also with the remastered demo tracks that have been added as extra bonus. If you like Thrash this is the album to get.
RAINBOW ROCK - Festival took place despite of terror and chaos!
Rainbow Rock is a new Christian Metal Festival in Sweden. Great bands likeBloodgood, Immortal Souls, Northern Flame, Hilastherion and many more played this first year. The festival however had a very tragic startwith the first terror attack ever in Sweden taking place just hours before the festival started! A terroristcame driving with a truck in the main walking street killing and hurting many. :( It was very sad and tragic. Since this happened just when the festival was about to start almost no buses and trainswere driving for several hours, which made it very difficult for visitors to get to the festival. The police also stopped almost all events in Stockholm, but Rainbow Rock was one of the very few that were still allowed. But despite of the terrorattack those who were at the festival enjoyed it very much, especially the Bloodgood gig was something extra and could be described asa revival meeting in a Heavy Metal form.
http://www.rbr-festival.com
DERACINATION - Times of Atrocity (Dark Symphonies)
Finally we can enjoy this cool release again. Old school Thrash influenced Death Metal for fans of early Mortification. This remastered double CD also features plenty of demos as extra bonus.
METAL BIBLE INTERNATIONAL - Organization for Metal Mission
The Metal Bible is a special Bible edition for metalheads featuring the New Testament and plenty of real life stories (testimonies)from metalheads talking about what God and the Bible means to them. It is distributed all around the world. So far it has been released in 11 languages and many more are on the way.To be able to distribute it to more metalheads and metal festivals worldwide Metal Bible Internationally (MBI) has been started up. MBI wants toencourage and help with Metal Bible Mission all around the word and also to collect money so it can be printed in new languages anddistributed it for free at festivals.
https://www.metalbibleinternational.com
2018 was a great year featuring comeback albums with Sardonyx and Bride as well as cool re-releases by Crystavox, Seventh Angel and Jerusalem! There were also new excellent albums with Stryper, Narnia and more.
ANTESTOR - Kongsblod (Independent. Kongsblod means King's Blood in Norwegian)
Antestor from Norway was one of the first Christian bands playing Black Metal. When their first album was released their record company however didn'tlike that the band members were Christians, so they did not do any promotion at all for the album. They also changed the album title and cover and also did not print some of the Christ centered lyrics. They did all this without the band's permission! So now many years later we can finally enjoy this great albumthe way the band wanted it to be from the beginning, with the correct cover, album title and all lyrics included. Truly a great albumin all ways to all into slow majestic black metal. Available both on CD and black and transparent double vinyl.
CRYSTAVOX - Crystavox (Roxx Records)
Here is an album for all into great Melodic 80s Metal! When this album was originally released CD was taking over and LP's sold poorly, so it has not ben available on LP until now.But lo and behold now Crystavox is released on both black and lilac LP as well as on CD. All tunes are also remastered making these great melodic metal tunessounding better than ever.
CRYSTAVOX - The Bottom Line (Roxx Records)
Crystavox second album is heavier than their selftitled. They even got helped by George Ocho (Recon, Deliverance)on one track.The result is an excellent Heavy Metal album that now also been remastered and released on both CD and on black and red vinyl.
SAINT - In The Battle (Armor Records)
With the LP market booming some great albums like this one has now finally been released on LP.In The Battle was Saint's comeback album and what a great album it is - Heavy Metal to the bone just as it should be. Fans of bands likeJudas Priest will be blown by this great band. Typical for Saint is that they love to combine the themes from the Acopalypse (the last book of the Bible) with hard hitting Heavy Metal.
NARNIA - We Still Believe - Made in Brazil (Independent)
Swedish Melodic Metalllers Narnia did a very successful tour to Brazil this year. The result is this amazing live album that is released on both CD and double LP.Sound quality is excellent to say the least. In fact this is one of best sounding live albums ever! All details in the music can be heard loud'n'clear. The crowd response is also amazing - they sing along so loudly, so it almost feels like you are in the crowd when you are playing this album. Great selectionof tunes as well. Fantastic album all the way and best live metal album 2018.
MORTIFICATION - Primitive Rhythm Machine (Soundmass)
Soundmass continues to release classic Mortification albums that have not been available on LP before and now the time has come forPrimitive Rhythm Machine with the ripping thrash ckassic 40:31. Artwork has been enhanced and now looks better than ever portrayingJesus victory over death graphically with a sword piercing a skull.
TOURNIQUET - Gazing at Medusa (Independent)
Tourniquet is back again with a new album. This time the vocals are handled by guest vocalists Tim "Ripper" Owens (ex-Judas Priest) and Deen Castronovo (ex-Journey)and guest guitarist is Chris Poland (ex-Megadeth). Stylewise they continue to mix the melodic with the extreme with a thrash base.A good solid album for all Tourniquet fans to enjoy.
BRIDE - Snake Eyes (Retroactive Records)
Bride is back after the breakup! There has been a lot of hype of this album being Bride - Snakes 2. While this is not exactly Snakes 2 it is definately the Bride album that have beenmost influenced by the classic Snakes in the Playground, so there are tons of energy and groovy riffs to enjoy on Snake Eyes.Cool album and good to have Bride back on track. Available on CD and blue vinyl.
JERUSALEM - 6 First albums remastered (Retroactive Records)
All the six first albums with Jerusalem have now been rereleased. Volume 1, Volume 2, Warrior, Can't Stop Us Now, Live in USA and Dancing on the Head of the Serpent have all been remastered, which make you hear more details and a crisper sound. There are also some bonus tracks added included Covered by Blood on the Dancing album. Talking about Dancing album it is released on a double CD featuring both the European and the American mix. Very professional and exclusive editions with cool thick booklets and an excellent sound. These classics have never sound this good before! A definite must have for all Jerusalem fans! Highly recommended also for fans of catchy 70s/80s Melodic Hardrock/Metal like Kiss, Scorpions and Deep Purple.
SEVENTH ANGEL - The Torment (Retroactive Records)
Very cool Heavy Doom/Thrash from the UK. All tunes are remastered making you hear more details and a fuller sound. If you are into Heavy Thrash & Doom this album will totally blow you away!Artwork has been enhanced making it possible to see more details especially on the LP version released on orange vinyl.
SEVENTH ANGEL - Lament For The Weary (Retroactive Records)
Second release features a slower yet heavy sound. The remastering making you enjoy it even more than when it was originally released. Cool stuff worthy checking out. Artwork has been enhanced making it possible to see more details especially on the LP version released on double blue vinyl.
STRYPER - God Damn (Condemn) Evil (Frontiers Records)
Excellent Heavy Melodic Metal with Stryper. In fact this is their heaviest album ever. The title refers to that when we see all evil around us we just want God to Damn (Condemn) all evil once and for all. That is the message Stryper wants to say wants to say with this title - nothing more and nothing less, which youcan also clearly see on cover. Walmart however, didn't like the cover title so they banned the album from their stores!
Over to music. As always with Stryper we get tons of catchy hooks and guitar solos to enjoy. Soundwise the band goes on from Fallen, this time with an even heavier sound. Excellent Melodic Metal album with a hard hitting Bible based message.Definately best studio Metal album 2018 in my opinion. Available on both CD and on yellow, black, silver and gold vinyl.
The albums has also been successful on Billboard reaching #1 on Billboard's Christian Album Sales, #2 on Billboard's Top Christian Albums, #3 on Billboard's Top Current Hard Music Albums, #5 on Billboard's Top Independent Current Albums, #7 on Billboard's Top Current Rock Albums, #12 on Billboard's Top Current Physical Albums, #14 on Billboard's Top Current Albums, #21 on Billboard's Top Current Digital Albums and #77 on Billboard Top 200. In addition, God Damn Evil soared to #1 on the iTunes and Amazon Hard Rock charts immediately upon release.
DELIVERANCE - The Subversive Kind (Roxx Records)
Deliverance is back in Thrash! Yeah, most of the album is pure raw thrash sounding something like a combo of What A Joke and selftitled album.Setting nowadays is Jimmy P Brown II, Jim Chaffin (The Crucified), Victor Macias (Tourniquet) and Glenn Rogers (Vengeance Rising). With a phenomenal settinglike this coming releases can be true master pieces! While this album is not a classic, it is still a good album of solid thrash that gives promise for the future.Hopefully they will incorporate more catchy memorable riffs like they had on their selftitled and Weapons of Our Warfare on next release and then we can have a new classic. Released on CD and black, red and green vinyl.
METAL HOUSE - New Metal Ministry with 7 visions
Metal House is a brand new organization for Metal Ministry with 7 visions (Christian Metalheads International, Rainbow Rock, Widow's Shard, White Metal Café, CMI Daily Prayer, White Metal Shop, and From My Metal Heart) under one roof.
http://www.metalhouseonline.com/
SARDONYX - Sons of the Kingdom (Independent)
Sardonyx is back again with more Progressive Heavy Metal to enjoy! After many year's absence the time has come for Sardonyx to once again take up the sword and spread the kingdom of God through metal music. Lyrically speaking this gives much food for thought and is truly a Bible study in metal music form. Cool stuff both musically and lyrically.
MELTDOWN - The First Thirty Years - Dave Williams (Book)
This is cool book about the history of Meltdown so far. It is written by Dave Williams, the director of Meltdown, who has been in Metal Ministry for 30 years. Meltdown is a music and teaching weekend in Wales in the United Kingdom for fans of Hard, Heavy and Alternative music, where they can have a great time together, enjoy music and get inspired in faith. Over the years a great number of people have been both inspired and encouraged in faith and several have also been saved at Meltdown. Guest speakers likeMichael Bloodgood (Bloodgood), Oz Fox (Stryper), Carey "Kosher" Womack (One Bad Pig), Tony Palacios (Guardian), Metal Pastor Bob Beeman (Sanctuary International), Michael Sweet (Stryper), Glenn Kaiser (REZ), Les Carlsen (Bloodgood),Jim LaVerde (Barren Cross), Ted Kirkpatrick (Tourniquet), Jeff Scheetz and Doug Van Pelt (Heaven's Metal) haveteached there. In this book Dave Williams shares how Meltdown all started and how things have progressed and also some fun anecdotes.A very interesting read with insights from a truly Christ centered ministry.
www.meltdownchm.co.uk
METAL DEVO - Pastor Bob Beeman (Book)
Here is another cool book to check out. Pastor Bob Beeman is a true Metal Pastor that both loves the Lord and enjoys Metal. In the 80s he started up the ministry Sanctuary (now called Sanctuary International) to minister to metalhead's that have come to know Jesus through Metal Ministry.Sanctuary International is still running today, stronger than ever. In this book called Metal Devo we can enjoy daily devotionals filled with quotes from many high profile metalheads, followed by Pastor Bob's daily insights.A cool book that both inspires and challenges you in your faith and also works great as a combo to the Metal Bible.
https://sanctuaryinternational.com/
METANOIA - In Darkness Or In Light (Soundmass)
Australian Death Metal band Metanoia's 1995 release has finally been remastered and rereleased. The album is a double CD including all demos as well. Cool Death Metal with plenty of influences from Thrash and Classic Metal.
THEOCRACY - Mirror of Souls (Ulterium Records)
Mirror of Souls is the Power Metallers Theocracy's second album. It is an amazing Melodic Metal master piece with tons of hooks and catchy riffs. Finally we can now enjoy it also on a great looking Double LP on both black and transparent vinyl.
More info to come so stay tuned...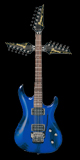 ---