Welcome to the book section! Here I gather all the Christian Metal book reviews I do.I have chosen to put them on a separate section to make it easier for you to check'em out.
---
IN TUNE - A workbook-based training course for Christians in music ministry - Dave Williams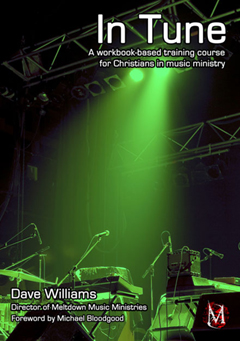 Dave Williams has been working with Metal Ministry for 30 years. He is the director of Meltdown Music Ministries that organizethe yearly retreat "Meltdown Christian hard music retreat" for people involved in Christian Rock and Metal ministry. He has a big heart for helping ministrybands to get their priorities straight and be good servants in their call to minister to people and help them to come to know Jesus.Dave shares his experiences and his Biblical based teachings will help you discern your calling into ministry and to maintain that calling honourably, no matter what you face. It focus on surrendering to Jesus and how to let Him use you as a servant to be His outstretched hands to people you meet. The book also highlights your responsibilities and potential pitfalls and the importance of striving to be professional. To help bands especially there is an accompanying workbook (that can be downloaded from the Meltdown website) so that you and your band can work through the book and apply the teachings directly to your own music ministry project, and insure that you stay in tune with God.
This book is a guide to what music ministry is all about and will equip you to be a good ambassador for Christ in the music world. I would go so far to say that it is an absolute must have if you want to be involved in any kind of Music Ministry!
The book can be ordered from:
www.meltdownmusic.co.uk
---
METAL MISSIONARY - THE STEVE ROWE STORY - Vic Campbell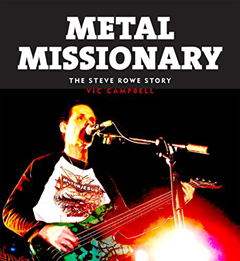 Wow, this is a very cool biography about Steve Rowe, the vocalist of Mortification! He shares about his life, talking of course much about his hard struggle with cancer and how it has affected him today.We also get to know Steve personally and how his life has been from the childhood to today.There are plenty of fun memories about his bands Mortification and Ligtforce included. It is also a very heartgripping book from a true Metal Missionary that despite all the physical problem the cancer treatment has caused him is still very used by God today. I think that's the bottom line for thisbook, that no matter your physical limitations and no matter what you have had to face in your lifeyou can still be used by God and get into the wonderful call He has for you.
Vic Campbell has done a great work in compiling this cool biography and I can higly recommend that youcheck out this very interesting book. It is 300 pages thick and there are plenty of pictures in it and is also written with a big font size to make it easier to read. A must have for all Mortification fansout there!
The book can be ordered from:
Amazon
and
www.metalcommunity.se
---
ONE BAD PIG FOREVER - Carl Phelan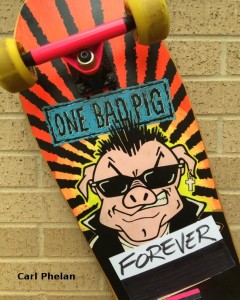 This is a cool book about the band One Bad Pig (OBP). It is written by Carl Phelan, who himself is a big fan of the band.The book truly is a book for fans of fans where we get to know the band members more personally and their story before they started the band and the fun, cool and strange thingsthat the band have been through. There are also several fans that share what One Bad Pig has meant to them. Cause although OBP is a fun band that loves to have fun on stage and in studio they do it all to glorify God and make a joyful noise to the Rock of our Salvation. As the band themselves saids: "One Bad Pig would not exist it it wasn't for a common love for Jesus and people. Jesus gave us compassion for our fellow man and it was this desire to help and benefit people that droveOne Bad Pig to form for real."
In the book we also get to know why they chose their name and logo, plenty of pictures and lots of fun road stories.I enjoyed the book (226 pages) and I can highly recommend that you check it out if you are a fan of the one and only One Bad Pig. Cool is also that this bookworked as a tool to put the members back together again. Now they have reformed and even put a new album out!
The book can be ordered from:
http://onebadpigforever.com/obpf2016/buy/
---
STRYPER - LOUD 'n' CLEAR - Dale Erickson & Jesse Sturdevant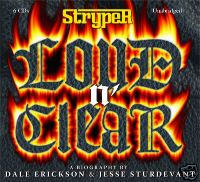 This is the official biography of Stryper! It's written by Dale Erickson & Jesse Sturdevant and contains the band's history, from the very beginning of the band to this present day. The book is based on interviews with the bandmembers and people around the band. The authors have really gone the extra mile to give the true picture about Stryper. For example they speak loud'n'clear about the band's hard period during the Against the Law-era.
But what hits you most when you read this book is the enormous success Stryper achieved! The key to their success must have been that they let God be the fifth member of the band. That's why God took them to the top and used them in such a mighty way to reach metalheads with the great message of Christ. The book is full of plenty of interesting details and it's really an interesting read. There are also plenty of cool photos included. This is a book I highly can recommend not only to Stryperfans but to all that want to know more about this legendary band who put christian metal on the map. This book also shows that there are no limitations to what God can do if you put him first and are devoted to serve Him.
Available worldwide from
Metal Community
---
RUBBER MEETS THE ROAD - Paul Doty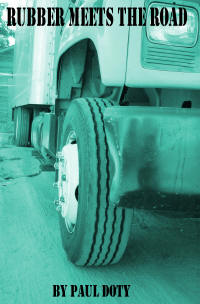 This is a book written by the soundman of Barren Cross and Bloodgood. It gives a lot of insight abouth how it is to tour as a christian metal band. It's not as glamourous as some may think, in fact it sometimes is very hard! But it's well worth it to see people be touched by God and come to know Christ. This book deals with a lot of situations that Barren Cross and Bloodgood had to face during their tours and it's a very interesting read. The book also includes over 30 rare photos.
Paul Doty shares a lot of wise words in this book and I can highly recommend it especially to all who plays in a Christian Metal band or feel called to do in the future. Anyone interested in christian metal will also find this book inspiring and insightful about the reality many christian bands have to face.



---
CHRISTIAN ROCK - FRIEND OR FOE? by Angelo De Simone
Amen! Finally a book on this issue that I can recommend! A book that doesn't condemn Christian Rock but instead supports it. The book is written by Angelo De Simone, a Christian musician with a lot of insight in this issue. The cool thing with him is that he in the beginning was negative to Christian Rock but then he started to study this subject in the Bible. And after he very thoroughly had studied this issue he found out thatChristian Rock is totally biblical!
Christians all around the USA have provided the author with over fifty reasons for rejecting Christian Rock as an acceptable ministry from God. The author examines each of these issues from a logical, musical and most importantscriptural standpoint. He comes to the conclusion after examining all these issues that Christian Rock indeed is a acceptable ministry for God and something God really uses to help many metalheads to Christ.
One important point he makes in this book is that it's about time that we Christians stop to devour satans liesabout musicstyles and start to fight against satan instead of fighting against each others!! And I totally agree withhim. It's definately about time!
The book is written with a lot of insight from a man who knows what he is talking about and contains over 250 pages, sothere is a lot of interesting things to read.
This is a book I highly can recommend to both critics and supporters of Christian Rock!
The book can be ordered from
SELAH PRODUCTION AGENCY
P.O. Box 9055
New Haven, CT 06532-0055
USA
selahproductionagency@yahoo.com
---